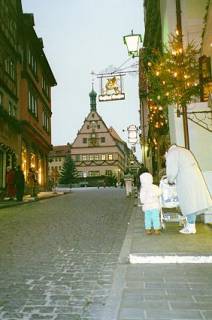 One of my favorite stories of Rothenburg is the story from World War II. As American troops were advancing through Germany near the end of the war, Rothenburg was threatened with destruction (and actually did suffer quite a bit of damage from aerial bombing), but because of the intervention of John J. McCloy who had visited the city prior to the war and loved it as much as we all do today, the city was saved.

At the center of Rothenburg, on the Marktplatz, stands the Renaissance Rathaus. If you visit Rothenburg, you will surely learn of the story of the town mayor who saved the city during the Thirty Years War. In the picture at the left, the Marktplatz can be seen from down Obere Schmiedgasse.

On Obere Schmiedgasse, just a few steps from the Marktplatz, our favorite hotel is located, the Gasthof Greifen.