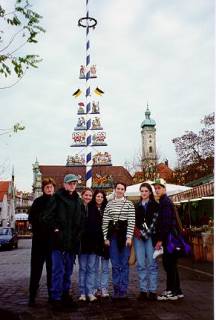 Munich is the largest city we visit on our trips to Germany and Austria. The first couple of time we stayed in Munich, we got relatively cheap places on the streets near the railway station. We have discovered, however, that it's worth the little extra cost to stay right in the center of the pedestrian zone. One of the places we like is the Am Karlstor, but our favorite is the Am Markt, a clean affordable small hotel adjacent to the Viktualsmarkt and less than three minutes from the Marienplatz.
We usually take one of the short guided tours of the city to see the major sights and learn a little of the history, and we make an effort to visit one or two of the world class museums found in Munich. But the students enjoy just walking around the market and the pedestrian zone, soaking up the life of the city.
On each trip to Munich, we make an effort to take the students to the Dachau memorial, located near Munich and easily reached by S-Bahn and bus. Take the S-2 toward Peterhausen and then take the marked bus (#722) to the stop for the memorial. Although Dachau was not technically a "death camp" like Auschwitz, enough reminders of the horrors of the time are there. A film in English can be seen at the small theater in the Museum; check the schedule for the film as soon as you arrive.