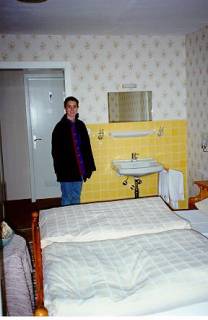 One of our very favorite places to stay in all of Europe is the Pension Weiher. At Frau Oswald's home, we are provided with spotlessly clean and charming accommodations, and then we are given one of the best breakfasts that we have anywhere in Europe.

The Weiher is located on Hofwiessenweg in the village of Hohenschwangau, directly down the hill from Neuschwanstein. At night, we can stand out on the balcony and see the iluminated castle. The village is small and quiet and we can get plently of rest before heading up the road to the castle and the terrible lines that are sure to form early.

Don't stay in Munich and take a daytrip to the castle. Don't even stay in Füssen and catch a taxi or bus out early. Go the village the night before. It is definitely worth the trouble.
Of course the star of the show is Neuschwanstein. No matter how long the lines, no matter how large the groups, the visit is worth it. We have seen it several times, and each time we see something we missed on the visit before. On almost every visit, we tried to arrive very early so that the lines would be less, but in fact the shortest line we ever had was on this visit in 1994. We arrived early enough on the afternoon before that we were able to get in as the last group; all the tour buses had gone and there was really almost no line at all!