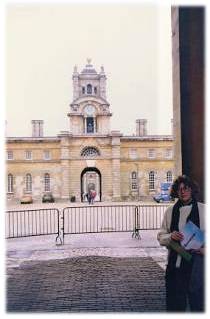 Although it doesn't look all that great in this photo that we have, Blenheim Palace proved to be a nice short stop for us. It's difficult to visit without a car, but there are buses from Oxford. The palace was presented by a grateful country to their favorite warrior, the Duke of Marlborough, in 1704. But for many visitors the palace is better known as the birthplace of Winston Churchill (his mother was visiting here at the time of his birth) and there's quite a bit of Churchill memorabilia included on the tour.

The first time I saw Blenheim Palace, it was from a distance, and the guide described it simply as Winston Churchill's birthplace. I assumed that it was the home that was owned by his family and didn't find out different until I read the truth in one of his biographies.
Upon retirement, I think I need to apply to one of the colleges at Oxford to see if I can ever understand exactly how the system works there. Our host and guide on the trip through this part of England was an Oxford graduate himself and tried to explain everything clearly to me, but I am still not certain. During our trip, we were able to visit the chapels of several of the colleges and spent quite a bit of time simply looking through the dozens of bookstores in the town. The town itself seemed to be one of the most charming we saw, but parking was unbelieveable.